The mission of Wellness at Penn is to Infuse wellness across the eight domains listed below throughout the Penn experience through inclusive, innovative, and impactful initiatives.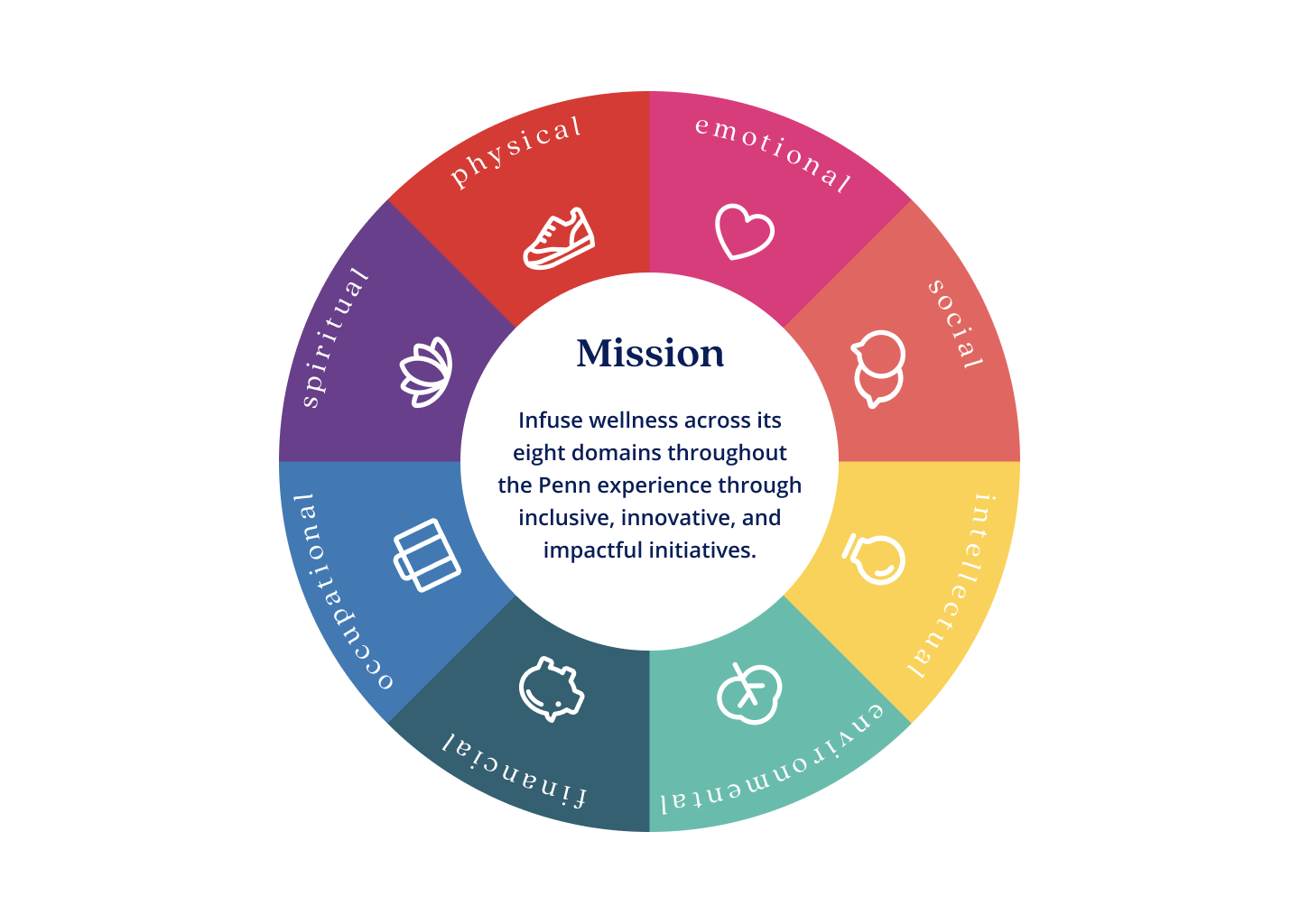 Physical

Physical Wellness is choosing things that make our body feel good—like regular exercise, proper nutrition, healthy sexual relationships, and trimming down on the things that bring us down, such as stress and inadequate sleep. 

Emotional

Emotional Wellness is our ability to understand and deal with both positive and negative emotions, learn and grow from experiences, and develop techniques of self-care and stress reduction. 

Social Wellness is our ability to build healthy and supportive relationships, foster genuine connections, and offer support to others during difficult times. 

Intellectual

Intellectual Wellness involves many things that keep our brain active and helps us to realize our abilities, cope with stress, and work productively. 

Environmental

Environmental Wellness is not only limited to the outdoors. It involves anything that influences our environment and our capacity to be and feel safe. 

Financial

Financial Wellness encourages balancing our perspectives about money and budgets, productive ways to handle stress related to finances, and practical techniques to manage, earn, spend, and save money. 

Occupational

Occupational Wellness is our ability to achieve work-life balance, do work that is motivating and interesting, and achieve a sense of personal satisfaction in the workplace. 

Spiritual

Spiritual Wellness promotes living a life that reflects our deepest values and beliefs by finding meaning in life events, developing individual purpose, and creating time for spiritual practices, like meditation, journaling, and prayer or personal reflection.