Welcome to Wellness 
---
Join us September 28-30 as we help you #ScareOffTheFlu at the 2022 Flu Clinic hosted by Wellness at Penn!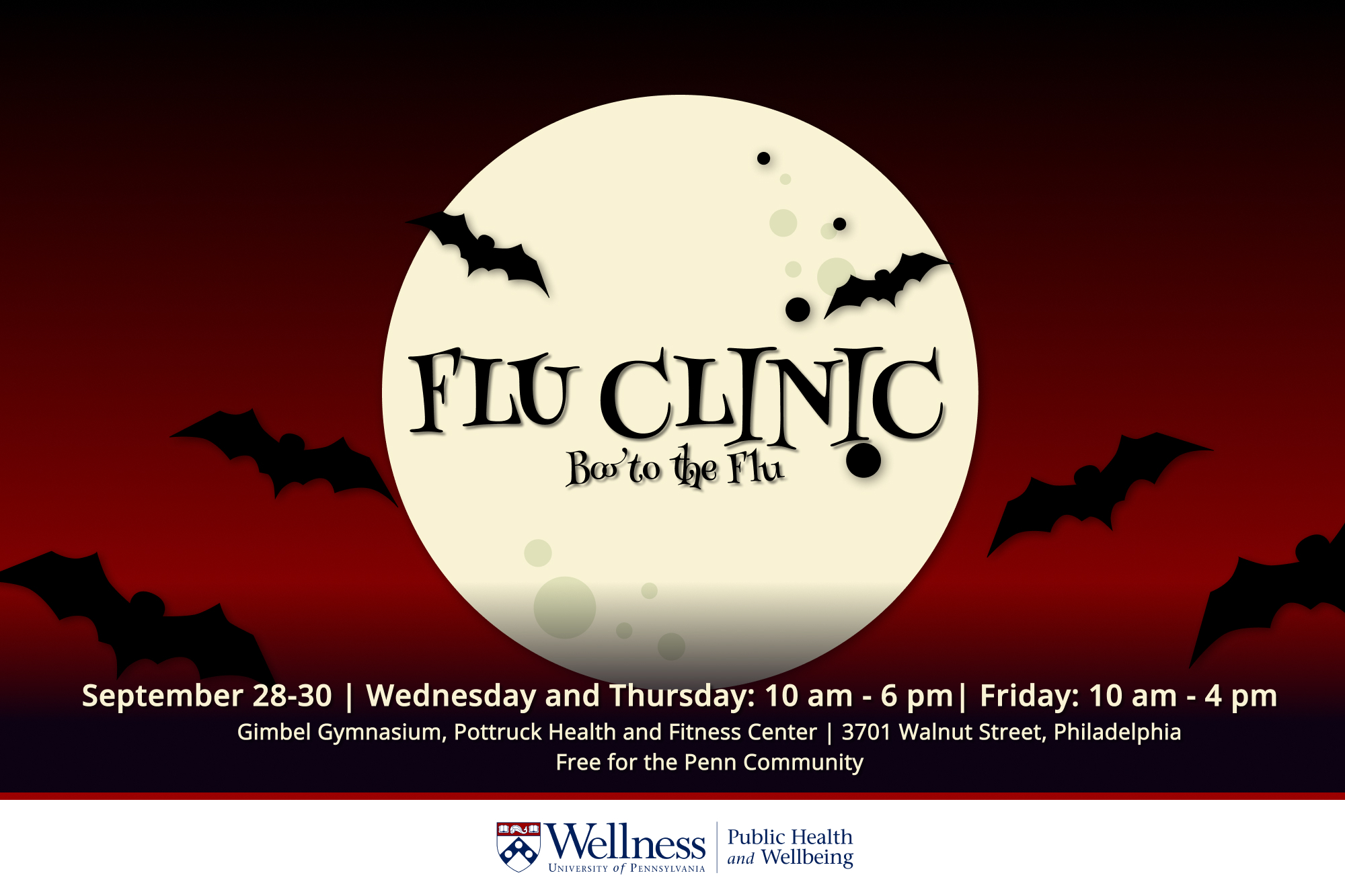 ---
About Wellness
Wellness at Penn is dedicated to caring for students during their academic journey while creating a campus-wide community of care. Our team is committed to offering a wide range of opportunities to access support, clinical resources, and practical tools to meaningfully engage with one's health and wellbeing. 
 
Our vision is simple: we want to create a campus experience that integrates the science, theory, and practice of wellness. We will accomplish this by infusing wellness across its eight domains throughout the Penn experience through inclusive, innovative, and impactful initiatives. The eight domains of Wellness include: physical, emotional, social, intellectual, environmental, financial, occupational, and spiritual wellness. All of our initiatives are grounded in collaboration and fueled by CARE: compassion, accessibility, respect, and empowerment. 
Our organization is built upon two pillars that operate collaboratively to create a campus community centered on wellness. 
Student Health and Counseling  Public Health and Wellbeing
I SHARE
---
Watch I SHARE, a video created by Wellness at Penn and student leaders in partnership with a grant from Higher Education Suicide Coalition (HESPC) to promote sharing with others and getting support in times of stress, distress, and crisis.
COVID-19 Guidance
---
Visit the University's COVID-19 website for the most up-to-date guidance and information.
 
Immunization and Insurance Compliance
---
Visit the Immunization and Insurance Compliance page for information about required vaccines, and to enroll or waive the Penn Student Insurance Plan (PSIP).
 
Locations and Hours
---
Medical Services
3535 Market Street, Suite 100, Philadelphia, PA 19104
Monday through Friday: 8 am – 6 pm
Saturday: 10 am – 3 pm
Closed on Sundays
215-746-3535 (24/7)
Counseling Services
3624 Market Street, First Floor West, Philadelphia, PA 19104
Monday through Wednesday: 9 am – 7 pm
Thursday and Friday: 9 am – 5 pm
Saturday: 10 am – 3 pm
Closed on Sundays
Students can drop-in and meet with a clinician during regular business hours.
215-898-7021 (24/7)
---
Need to schedule an appointment?
Student Health and Counseling offers 24/7 support for students.
To schedule a medical appointment, visit the Wellness Portal or call 215-746-3535 (press 0 to page the provider on call if after hours).
To schedule a counseling appointment, call 215-898-7021 (press 1 to talk to a clinician if after hours).
Same-day drop-in services for counseling
Students can drop-in to the Student Health and Counseling office (3624 Market Street) at any time during regular business hours without an appointment for counseling support. Students can also visit trained counseling professionals at various locations across campus through the Let's Talk program.

Visit the Counseling Services page for more info.
Statement from Wellness and CPHI
On Friday, June 24, the United States Supreme Court revoked Roe v. Wade, which for nearly 50 years has protected the right to safe abortions and reproductive care. This ruling leaves the decision of abortion access to individual states and is a threat to health care access, basic human rights, and health equity. 

As Centers dedicated to public health, we understand and acknowledge the radical policy implications of this announcement, and the fear and anxiety generated as a result. Together, we join the Penn Community and those across our nation to defend access to safe health care for all, including people who are marginalized because of gender, race, ethnicity, sexual and gender identity, and economic status. Restricting access to safe abortions will lead to increased maternal mortality, childhood poverty, and poor mental health outcomes, and will undoubtedly exacerbate racial inequities. 

Providing inclusive public health services for all in our community means providing access to safe and legal reproductive care, including abortions. The World Health Organization recognizes abortion care as an essential healthcare service. Continuing to reinforce comprehensive abortion care is life-saving, affirming, and critical to the nation's public health. In light of this decision, the Penn public health community will continue to educate and promote access to comprehensive and safe reproductive care.
 
—Benoit Dubé, Chief Wellness Officer, Jennifer Pinto-Martin (out-going) and Richard Wender (in-coming) Executive Director, Center for Public Health Initiatives