Welcome to Penn!
---
We are thrilled that you are embarking on your next adventure as a Quaker. Wellness at Penn is dedicated to caring for students during their academic journey while creating a campus-wide community of care. Our team is committed to offering a wide range of opportunities to access support, clinical resources, education, and practical tools to meaningfully engage with one's health and wellbeing. 
Once you have your PennKey, all full- and part-time students should do the following:
To ensure the health and safety of all students, the University requires all full- and part-time students to have adequate health insurance and remain up-to-date on their immunizations. Review instructions for uploading your immunization records and completing your health information requirements below.
 
Immunization Requirements
---
The forms below contain information about the university required and recommended vaccinations. Penn requires all full- and part-time undergraduate and graduate students to be vaccinated with certain immunizations before arriving to campus. The forms linked below must be printed, completed, and reviewed and signed by a medical provider. 
Please note: clinical students enrolling in the nursing program, the Dental School, PSOM, or the Vet School have different requirements. If entering vaccinations that are not listed as required/recommended on the form, please enter the dates of vaccination and submit appropriate documentation. 
 
Universal (Non-Clinical/Non-Healthcare Student) Immunization Form
 Universal Immunization Requirements Form
 
Clinical/Healthcare Student Immunization Forms
Perelman School of Medicine: Immunization Requirements Form
Dental School Immunization Requirements Form
Veterinary School Immunization Requirements Form
Nursing School Immunization Requirements Form
Submission Instructions
Step 1: Complete the first 3 online forms.

Go to your Wellness Portal and log in with your PennKey, password, and birthdate. Click on FORMS and complete the following forms (you may need to have a parent or someone who knows your medical history next to you while you answer the questions):

Notification of Privacy Practices
TB Risk Screening
Health History

Step 2: Contact your medical provider.

Print the necessary immunization requirement form from the list above, complete the information, and have your medical provider review and sign it.
Ask your medical provider for a copy of your full immunization records. Your provider should use the immunization form to provide a clearer picture of your immunization records prior to completing step 3.

Step 3: Complete the online immunization information.

Go to your Wellness Portal.
Log-in with your PennKey, password, and birthdate.
Click on FORMS and choose "Immunizations Page."
Enter your past immunization information into the electronic form, using your immunization form as a guide.
Proceed immediately to Step 4.

Step 4: Submit your immunization documents.

Scan or take a high-resolution photo of your complete and signed immunization form and other immunization records (please make certain the copy is legible and right side up).
When you are finished, click the "Submit Final" button.

* If you need to submit immunizations that are not listed on the form, or need to submit after the deadline, you can add them when you log-in to your Wellness Portal using your PennKey and password. Click the "View Immunizations" tab and click the "Add Immunizations Records" button to upload your documents. 
Watch this instructional video to find out how to upload your immunization form!
All students entering the University of Pennsylvania must complete certain online health requirements. Visit the "Forms" tab when logged into your Wellness Portal, and complete the following:
Consent to Telehealth

Simply check the box to consent to participate in telemedicine appointments, or click "cancel" to withhold consent.

Health History Form

Your health history includes your past or ongoing health issues, allergies, medications, surgeries and significant procedures, and your family health history. Please answer all the questions you can by checking the boxes next to each item. You may leave any section blank if you are unsure.

Immunizations

Instructions to submit immunization documentation listed above. 

Notice of Privacy Practices

Submit acknowledgement of privacy practices.

TB Screening

Fill out the questionnaire to assess your risk of tuberculosis (TB) disease.
Below is a screenshot of where to access the health information requirements (including the Consent to Telehealth, Health History form, Notice of Privacy Practices, and TB Screening).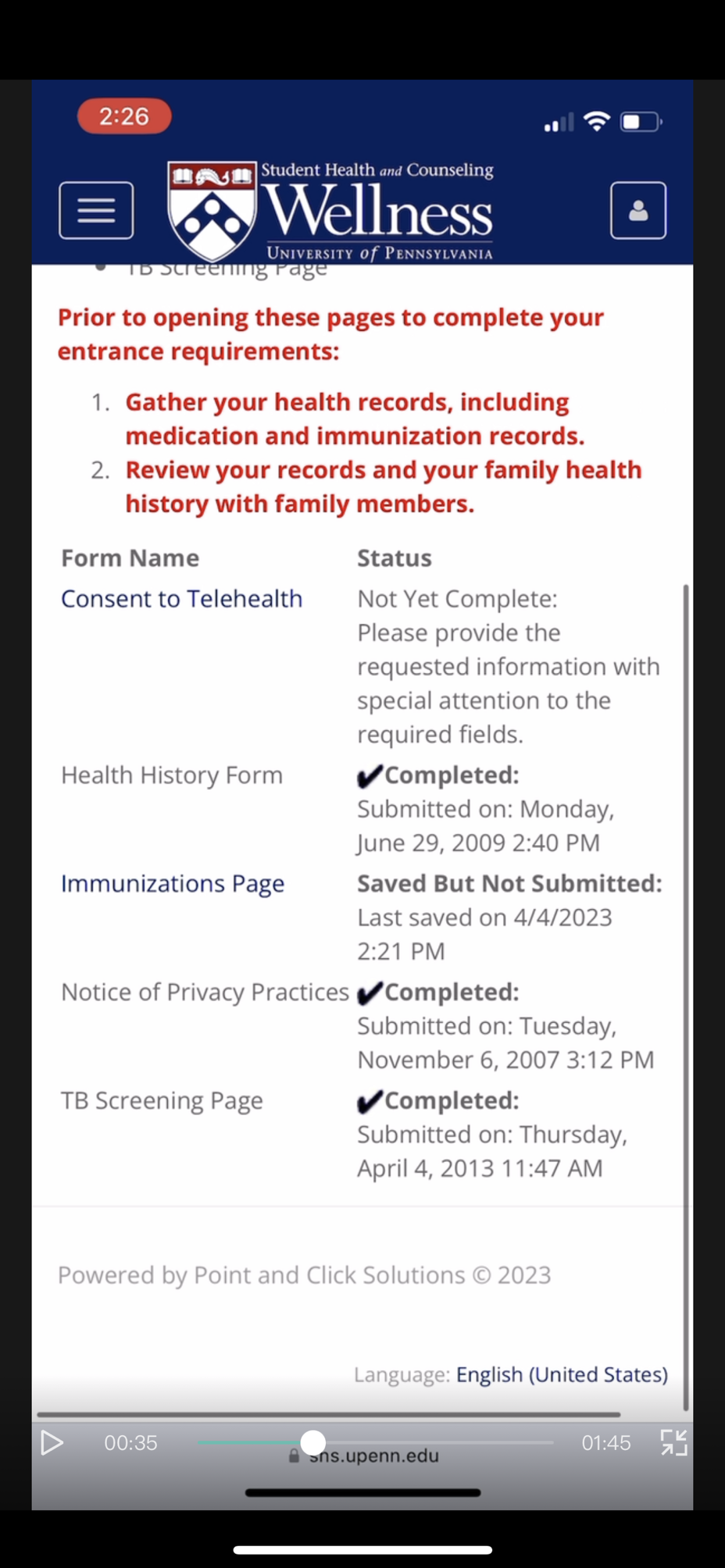 If you have questions, please contact the Immunization and Insurance Navigators at 215-746-WELL (9355) or wel-immun@pobox.upenn.edu. For your medical privacy, do not email records to us. To comply with United States HIPAA regulations, we will communicate with you about your records through Secure Message in your Wellness Portal. 
Immunization Form Due Dates
Fall enrollment: form is due by July 1, 2023
Spring enrollment: form is due by January 1, 2024

Visit the Immunization Requirements page for more information. 
 
Annual Insurance Requirements
---
All full-time and dissertation-status students, and exchange students here for a semester or more, must enroll or waive in the Penn Student Insurance Plan (PSIP) annually, as all students must carry comprehensive health insurance as a condition of student enrollment at the University of Pennsylvania. If you have your own insurance coverage, you may waive enrollment in the Penn Student Insurance Plan. Please review the information below. 
Please note: the PSIP portal will open on July 1 for those students enrolled in the Fall semester. 
Enroll or Waive: Penn Student Insurance Plan (PSIP)

Learn More About PSIP
Watch this instructional video to find out how to complete your Insurance enrollment or waiver!
Clinical Fee
Wellness' Student Health and Counseling division is committed to partnering with you to treat illnesses and injuries, promote wellness, and provide you with health education and information. Access is provided through Penn's Clinical Fee. The clinical fee for academic year 2023-2024 is $344 per semester. All full-time students, including those who are enrolled in the Penn Student Insurance Plan (PSIP), will be charged the Clinical Fee. 
Visit the Insurance Requirements page for more information.
 
Contact Our Immunization and Insurance Navigators
---
Please feel free to contact us with any questions. Please do not email us your immunization records, as they will not be processed.
Immunization and Insurance Navigators
Wellness at Penn
3535 Market street, Suite 20, Mezzanine
Philadelphia PA 19104
215-746-WELL (9355)
wel-immun@pobox.upenn.edu
wel-shsinsur@pobox.upenn.edu