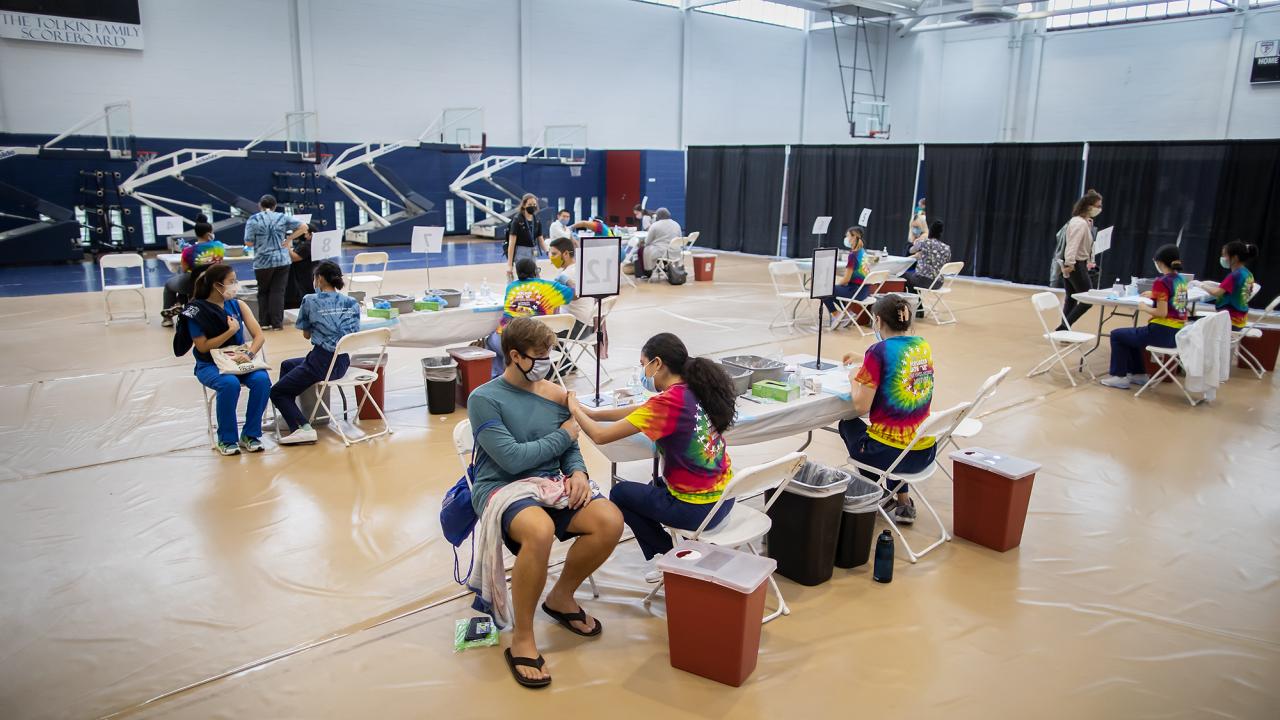 Immunization Requirements for the 2023-2024 Academic Year
---
The University will no longer be requiring the COVID-19 and flu immunizations for all students. 
The University of Pennsylvania requires all students to be compliant with these requirements. Failure to meet these requirements will result in denial of student registration privileges. All students must submit their immunization information into their secure Wellness Portal.
 
Non-Healthcare Students
---
Universal Immunization Requirements Form

Healthcare Professional (HCP) Students
---
Perelman School of Medicine: Immunization Requirements Form
Dental School Immunization Requirements Form
Veterinary School Immunization Requirements Form
Nursing School Immunization Requirements Form
 Submission Instructions
Step 1: Complete the first 3 online forms.

Go to your Wellness Portal and log in with your PennKey, password, and birthdate. Click on FORMS and complete the following forms (you may need to have a parent or someone who knows your medical history next to you while you answer the questions):

Notification of Privacy Practices
TB Risk Screening
Health History

Step 2: Contact your medical provider.

Print the necessary immunization requirement form from the list above, complete the information, and have your medical provider review and sign it.
Ask your medical provider for a copy of your full immunization records. Your provider should use the immunization form to provide a clearer picture of your immunization records prior to completing step 3.

Step 3: Complete the online immunization information.

Go to your Wellness Portal.
Log-in with your PennKey, password, and birthdate.
Click on FORMS and choose "Immunizations Page."
Enter your past immunization information into the electronic form, using your immunization form as a guide.
Proceed immediately to Step 4.

Step 4: Submit your immunization documents.

Scan or take a high-resolution photo of your complete and signed immunization form and other immunization records (please make certain the copy is legible and right side up).
When you are finished, click the "Submit Final" button.
Watch this instructional video to find out how to upload your immunization form!
If you have questions, please contact the Immunization and Insurance Compliance Office at 215-746-4200 or wel-immun@pobox.upenn.edu. For your medical privacy, do not email records to us. To comply with United States HIPAA regulations, we will communicate with you about your records through Secure Message in your Wellness Portal. 
 
Immunization Form Due Dates
Fall enrollment: form is due by July 1, 2023
Spring enrollment: form is due by January 1, 2024
 
Contact the Immunization and Insurance Navigators
---
Please feel free to contact us with any questions. Please do not email us your immunization records, as they will not be processed.
The Immunization and Insurance Navigators
Wellness at Penn
3535 Market street, Suite 20, Mezzanine
Philadelphia PA 19104
215-746-4200
wel-immun@pobox.upenn.edu
wel-shsinsur@pobox.upenn.edu