About the Farm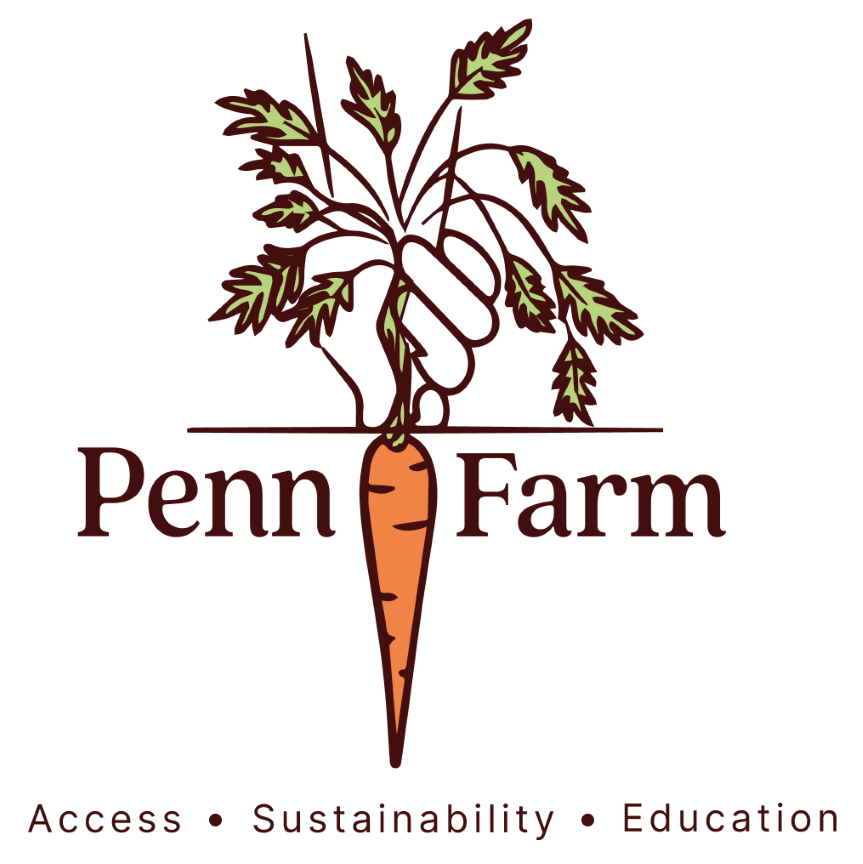 ---
The Penn Farm, which originated through the Penn Food and Wellness Collaborative (PFWC), is a unique, multidisciplinary program that engages stakeholders from across the Penn community around four central pillars of wellness, food access, sustainability, and education. Wellness at Penn, Penn's Center for Public Health, and Facilities and Real Estate Services (FRES) joined together to establish the PFWC in 2019. FRES provides expertise in planning, land stewardship, design, operations, and maintenance. Penn Farm is Penn's first and only on-campus farm. Each year, the farm grows thousands of pounds of organic produce to support food access initiatives and hosts a wide variety of programming including research, internships, class visits, courses, workshops, volunteer opportunities, and events.
 
The Location 
---
The Penn Farm is located at the southernmost tip of Penn Park, one of Penn's largest green spaces. Nestled between open recreational fields and the Penn Park Orchard, the Penn Farm is visible from the South Street bridge and accessible via pedestrian paths from Shoemaker Green and the Penn Ice Rink. The Penn Farm uses regenerative agricultural practices and grows approximately 2,000 pounds of produce each year. It is also a living laboratory and community space that provides opportunities for applied learning and publicly available wellness programs for hundreds of Penn's students, faculty, staff and neighbors.
The Food
---
The Penn Farm grows more than a thousand pounds of fresh, organic produce each year! That produce is distributed for free through our food access programs and partnerships.
Food Access

Each week we distribute over 200 servings of fresh, organic produce to our distribution partners. They help us get the food we grow directly to members of the Penn community and to students on Penn's campus who are experiencing food insecurity. We partner with The Netter Center for Community Partnerships to support students at Penn experiencing food insecurity through a network of produce distribution sites. We also work with the Hospital of the University of Pennsylvania (HUP) to supply fresh produce to their employee food pantry initiative. We also work with Food Not Bombs Solidarity to distribute produce to our neighbors in West Philadelphia.

If you are a HUP employee who self identifies as food insecure and would like more information about the employee food pantry please contact Sofia Carreno at Sofia.Carreno@pennmedicine.upenn.edu.

Culinary Education

Our produce is utilized in educational opportunities such as cooking classes, study breaks, and herbal medicine making workshops.
The Programs
---
At the intersection of countless educational and wellness related initiatives, the Penn Farm partners with stakeholders across Penn's campus to provide year round programming and academic opportunities.
Academic Partnerships: The food system is a complex field of study that requires an interdisciplinary approach. Therefore, we work with faculty from a wide range of schools and departments to incorporate applied learning opportunities for students into their curriculum, courses, fieldwork and capstone projects, and research. Using the food system as a lens, students are able to explore some of the most urgent issues of our society including everything from climate change to public health and food sovereignty.
Internships and Public Programs: Penn Farm also provides extracurricular opportunities for learning. We run summer and academic year internship programs where we support student cohorts in developing their leadership skills and provide technical training in regenerative agriculture, public speaking, and communications. Our student interns serve as liaisons for Penn Farm and its pillars. They provide relevant and engaging peer-to-peer educational opportunities within their interest areas on topics like student food access resources, workshops promoting mental and physical health, and volunteer days and tours of Penn Farm.
Events: We love hosting people at our beautiful farm as well as at our partner sites. We host study breaks, festivals, wellness workshops, farm dinners, exercise classes and more.
Wellness Programs: Penn Farm is a vibrant wellness hub for the Penn community. We host volunteer days which are unique opportunities for students and staff to come out and get their hands dirty and spend time outside. We partner with existing campus initiatives to host wellness events that prioritize movement, time in nature, nutrition, and inclusive community building. We also supplement our produce distribution programs for students with relevant workshops on food budgeting and cooking.
 
Students
---
The Penn Farm provides a community space in which students can put away their "Penn Face" and spend time working with their hands. Beyond farming, we aim to educate students on the technical skills and foundational principles of sustainable agriculture, and inspire lifelong passion for the outdoors.
Want to get involved with the Penn Farm?
Faculty and Staff
---
The Penn Farm welcomes collaboration with Penn's incredible faculty and staff. The farm is a great place for field trips, hands-on learning and has the capacity to serve as an outdoor laboratory for research. Staff can also host events at the farm, weather permitting.
Interested in utilizing our living laboratory?
Bring your class to the Penn Farm for a field trip.
Collaborate with us on long-term class projects or research.
Host your office or staff retreat at the Penn Farm for a unique colleague bonding experience.
To coordinate, please reach out to Emylee Fleshman at emylee@upenn.edu.
 
The Philadelphia Community
---
Community members are always welcome at volunteer days and events hosted by the Penn Farm.
Penn Farm by the Numbers
1,810+
bags of produce distributed to Penn students