LGBTQ+ Care
---
Student Health and Counseling is devoted to providing an inclusive
e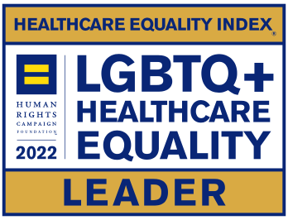 nvironment and supporting a diverse Penn community. The University's nondiscrimination policy ensures high-quality services regardless of sexual orientation or gender identity (as does all of Penn). Wellness at Penn is nationally recognized as an LGBTQ+ Healthcare Equality Leader by the HRC's Healthcare Equality Index.
Our LGBTQ+ Health Working Group oversees planning and protocols specific to the needs of LGB/Q and Transgender patients. Our team has special expertise in the area of LGBTQ+ Health, but all staff are given essential training on LGBTQ+ inclusive care. 
What has Penn Student Health done to support LGBTQ+ Health?
We provide staff education on LGB/Q and transgender issues.
We partner frequently with the Penn LGBT Center and the Penn Medicine Program for LGBTQ+ Health.
We conduct research on issues relevant to LGBTQ+ communities
We educate others across campus and outside Penn about LGB/Q and transgender health issues
We have hired "out" clinical staff.
We helped advocate for transgender health inclusion in the student health insurance plan.
Remember:
All services are confidential.
There are no copayments required for medical visits, regardless of which health insurance plan you have.
All full-time students are eligible to be seen (you've already paid for it through your University Clinical Fee). Part-time students may pay the annual (or semester) fee if they wish to be seen here.
---
LGB healthcare:
The following are services that may be of interest to lesbian, gay, bisexual, queer, and other students at Penn. Wellness at Penn serves students of all sexual orientations and gender identities.
LGB/Q-inclusive preventive care and well-adult visits/physicals
Sex-positive and judgment-free STI prevention counseling
Free condoms
Prescriptions for PEP (HIV post-exposure prophylaxis)
Prescriptions for PrEP (HIV pre-exposure prophylaxis)
Multi-site testing for gonorrhea and chlamydia (genital, throat, rectal)
Syphilis screening
Hepatitis A, B, and C screening
Vaccinations for Hep A, Hep B, Meningitis, Meningitis B, and HPV for all genders
Evaluation and treatment of STIs such as genital warts
Cervical cancer screening and evaluation of abnormal cervical Pap tests
---
Trans healthcare includes:
Comprehensive, multidisciplinary services including primary care, gynecologic care, and wellness services
Gender-affirming hormone therapy
Gender-affirming gynecological and sexual health care, including cervical cancer screening/pelvic exams
Referrals for gender-affirming surgery
Referrals to specialists and other trans competent providers in the Philadelphia area
What should I expect at my first visit if I'm interested in hormone therapy?
We utilize the informed consent model of care for hormone therapy — this means that all of your care will be provided by a medical professional who specializes in transgender healthcare. We may refer you to our counseling services at your request, or for additional support and resources.
Be prepared for your appointment to last at least 30-60 minutes.
Your provider will inquire about past medical and surgical history, family medical history, current medications, and allergies.
Your provider will perform a basic physical exam and may order laboratory tests.
Your provider will ask about your gender experience and goals of transition, if any.
Your provider will go over available options for gender affirming hormones. We will review the permanent and reversible effects of the medicines you may be prescribed, possible side-effects and how medical transition may affect your body.
You will be given plenty of time and many opportunities to ask questions about your medical transition.
You will be given a copy of the informed consent form to take home and review.
What should I expect during follow-up appointments?
Your provider will see you for a follow-up appointments at regular intervals, and on an as-needed basis.
Prior to starting gender affirming hormones, the provider will review your lab results (if drawn), we will review the informed consent for gender-affirming hormone therapy again and you will be asked to sign it.
Your provider will then prescribe your hormones.
If you require injections, the provider or a nurse will teach you a safe injection technique. Click the links below for more information!
Personal Navigator Program for Transgender Students
The Penn Student Insurance Plan (PSIP), through Aetna Student Health, created the Aetna Personal Navigator Program, which connects transgender student directly to one single point of contact to assist in all non-clinical, clinical, and behavioral health resources. This program helps to reduce barriers many transgender students may face in accessing the care, services, and procedures needed.
The Aetna Personal Navigators are accessible through the regular Customer Service number (800-841-5374). Members who contact our customer service center with questions about gender affirming care will be referred to one of the specially trained Navigators. Once connected, the student will have the opportunity to work directly with their Navigator as their single point of contact. The Navigators will help with the following:
Answering member benefit, claim, and network access questions
Monitoring pre-certification requirements and authorizations
Supporting members on their journey and connecting them with clinical, behavioral, and trans-knowledgeable resources
Connecting members to Aetna Case Managers and the Behavioral Health team
Questions related to PSIP and the Aetna Personal Navigator Program should be directed to Deborah Olson, Aetna Student Health, at debolson@upenn.edu or by calling 215-746-0808.
---
At all of these appointments, your provider will continue to promote health and wellness. This is something we do for all of our patients. You may be counseled on healthy diet and exercise habits, appropriate immunizations, STI & HIV testing, and pregnancy prevention (if applicable).
Schedule an appointment online or call 215-746-WELL (9355).
If you have specific questions about the Penn Student Insurance Plan (PSIP) coverage, please contact our Aetna Student Health Account Representative Deborah Olsen: olsond3@aetna.com. 
 
LGBTQ+ Working Group
---
Learn more about Wellness at Penn's LGBTQ+ Working Group.